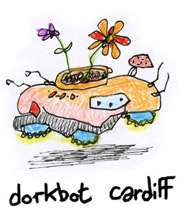 Hello!
I am going to be giving a presentation at
dorkbot Cardiff #12
! I'm pretty excited about it. My presentation will be about my game, The Cursed Caves.
Here are the details:
When: 20:00 Thursday 21st February 2013
Where: Tommy's Bar at Howard Gardens, Cardiff School of Art & Design, CF24 0SP
Theme: Games
If it sounds interesting to you, please come along. It sound interesting to me.
Go here for more info:
http://dorkbot.org/dorkbotcardiff/